The project


Earth From Another Sun is an expansive blockchain-powered sci-fi franchise. It entails a galactic sandbox featuring an ever-expanding multiplayer galaxy with many unique locations to explore, NPCs to meet, quests, and loot to discover.


There will also be several multiplayer game modes and future experiences, games, and collaborations with other art forms. First-person shooter arenas, battle royale modes, and a roguelike game are just some of the content that's underway.


We are a team of video game veterans who have worked at game studios including Riot, Gameloft, Disney Interactive, IGG, Perfect World, and Wevr. The average team member has 9.5 years of experience in the industry. Our mission is to make the most popular blockchain-powered video game franchise.


Over the past three and a half years, we've been hard at work on Earth From Another Sun, the highest production quality game powered by blockchain technology.


In EFAS, you can build your army, establish your faction, and conquer planets. Fight alongside the troops you command in meticulously crafted, exhilarating First-Person Shooter combat. Enjoy massive battles with up to 1000 combat units and vehicles, using hundreds of unique weapons, weapon mods, abilities, and enemies that provide a fresh combat experience every session.


Play and acquire coveted troops, companions, exo-suits, equipment, vehicles, and spacecraft. Enjoy all this in glorious multiplayer co-op, or go head-to-head with other players on massive PvP battlefields.


With our design tools, you'll be able to create new characters, quests, loot items, art assets, towns, and even new planets. There will be endless worlds to explore in EFAS.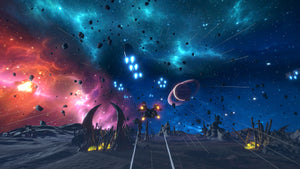 CHOOSE YOUR PACK
Note: all of the digital items above are for backers only, and are not available to the general public. Digital items are cosmetic in nature and may have small functionalities that don't alter the balance of the game. They will be delivered at a later date.
Our studio's moto
PLAYERS COME FIRST
We listen to the community intensely and engage in conversations daily. Fixing bugs as quickly as possible, creating truly sustainable game designs, not being greedy, and doing the right thing are a few of our core beliefs.
Investors & Partners
Exhilarating
FRESH FPS COMBAT
There are many great FPS games out there. We made sure to give you hundreds of gun mods, powers, gadgets, and passives to keep things fresh. Enemies also have a large amount of variety and abilities.

Exploring
An intriguing galaxy
There are many unique locations to explore in the galaxy. Planets have their own climates and geographical features. Settlements have unique architectural styles and cultural characteristics. Even space stations are worth exploring for their hidden shops and amenities.
Take your fleet, your crew and explore to your heart's content.
Piloting
COMBAT VEHICLES, MECHS & DRONES
What would be the Battle of Naboo without the tanks and energy catapults?

There are many different types of vehicles in sci-fi, and piloting them inside a massive battlefield feels amazing!

Pilot spaceships, tanks, hovercraft and mechs as you fight to dominate the galaxy!
Other Features
LARGE SCALE SCI-FI BATTLES
Ever wanted to experience what it's like to be a soldier or battlefield commander in the middle of iconic battles from your favorite sci-fi movies? With support for up to 1000 units on a battlefield, this is now possible.

OPEN WORLD GALAXY
You will encounter many people, creatures, love interests, treasures, calamities, and other events that will test your strength and resolve. Make allies, pledge service to another faction, or create your own independent nation. Who knows, you might even get married and have genetically altered children along the way!
MULTIPLAYER
Team up with 3 friends or strangers to form a formidable fleet. Travel and discover the galaxy together, as a team.
Meet other player fleets and decide what you want to do with them. Fight? Flee? Trade? Tell them a story? Form a band and have jam sessions? The choice is yours.
Core Team
Zephyr
Stanford University M.S.
Bitcoin HODLer since 2014.
Created indie games with over 30 million players worldwide by himself.
Former technical director at News
Corporation, former senior software engineer at WeVR, and former software engineer at IBM.
He has 12 years of experience designing and programming video games and a lifetime of gaming under his belt!
Yoko
INSA, Master of Software Engineering.
Yoko has a rich experience in game engine architecture, network programming, and management of engineering teams.
He held technical management positions in French enterprises such as Kylotonn and is a veteran agile coach.
Anthony
Master of Social Shitposting and Doctor of Community Loving.

Anthony is Anthony. He has tons of experience being Anthony and plans to continue this streak for at least the next few years.

Anthony spends most of his time bringing attention to players' feedback and making sure that everyone in the studio takes those seriously.
JK
Former 3D artist at Riot Games.
Former 3D artist at Disney Interactive.
Instructor at Seoul National University.
JC
Insanely talented environment designer / artist.
Worked at IGG and participated in the production of Dragon Quest 11.
Jin
Worked at Gameloft and participated in the production of the Dynasty Warriors series.

Rich experience in motion capture, character and CG animation.