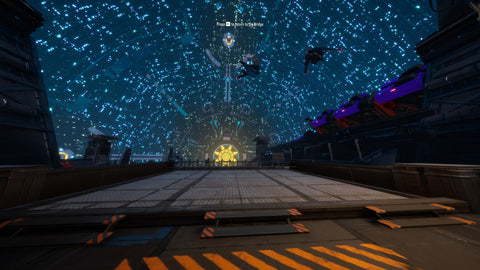 Hello everyone! Update 70 is coming with new troop formations, new weapon cores, an upgrade system, and mooooooooooooooooore!
Additions:
New Mod:
-Anti-Personnel Missiles


All Mods have been modified to use weapons' primary attacks


New Weapon Cores for the Pistol:


-Eagle Eyes




-Deadshot




-Large Caliber




-Infinite Magazine




A crafting system has been added!


Equipment can now be upgraded, refined, or recycled


The Eternal Glove is back! (targets enemies and allies alike!)


Missions' difficulty is now more obvious


More information about Good Will with characters and factions will be given in-game


Battlefield statuses now have voice-overs (players' request)


3 New troop formations!


Ships can no longer phase through objects


A small cutscene has been added when purchasing ships


NPCs now look at you when close by


New female NPC skins


NPCs will now be able to give local commerce information (players' request)


Picking up quests will now let you choose if you wish to track it or not (players' request)


The mission board shows where to go to complete missions (players' request)


Mining and recycling now have proficiency levels


Tutorials can now be turned off (players' request)
Fixes:
Players' names will be added in front of their companion in multiplayer (players' request)


Black screens after loading should not happen anymore


Rift levels will now display correctly


Dying while reloading the bow will not loop the reload sound anymore


UIs on the star chart will now function correctly


Ships will now drop units on the battlefield when needed


The level up effect was slowed down


Colonies will now sell troops



The initial number of troops when starting a battlefield will now be correct.
EXPERIMENTAL
---